Abkhazia on the turn of the century, by Oleg Damenia (2011)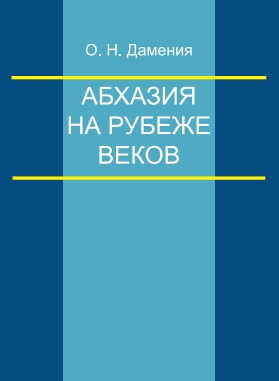 Abkhazia on the turn of the century (the experience of conceptual analysis)
Author: O.N. Damenia
Editorial Board: Yu. V. Golik (managing editor), M.T. Agammedov, N.A. Vinnichenko, I.H. Damenia, I.V. Eliseev, I.E. Zvecharovsky, A.V. Zemskova, A.V. Konovalov, S.F. Milyukov, A.V. Salnikov, A.V. Fedorov, A.A. Eksarkhopoulo
Place of Publication: Saint Petersburg 
Publisher: Yuridichesky Center Press
Year: 2011
Number of pages: 535
ISBN 978-5-94201-622-7
Абхазия на рубеже веков (опыт понятийного анализа)
Автор: О. Н. Дамениа
Место издания: Санкт-Петербург
Издательство: Издательство Р. Асланова "Юридический центр Пресс"
Год издания: 2011
Количество страниц: 535 с.
ISBN 978-5-94201-622-7
The full book in PDF can be downloaded by clicking here (3.55 MB)
The book is published on AbkhazWorld.com with permission of Oleg Damenia and Publisher Yuridichesky Center Press.
In the present book, the famous philosopher studied the Abkhazian problem of the modern Abkhazian society. The author of concise reviews taking place in Abkhazian lifestyle changes based on current transformation's processes. The analysis is based on an integrated approach using the methods and conceptual apparatus of social philosophy, cultural studies, ethnography, phenomenology, hermeneutics, psychoanalysts and synergy. First attempt to develop in the context of world culture and the common Caucasian concept of Abkhazian statehooh and culture in general was made.
This book is designed for a wide range of readers, historians, philosophers, culturologists, politologists, primarily for those interested in the problems of Abkhazian culture.

Абхазия на рубеже веков (опыт понятийного анализа)
В предлагаемой вниманию читателей книге известного абхазского философа исследуются проблемы развития современного абхазского общества. Автор рассматривает происходящие в абхазской жизни изменения на фоне современных трансформационных процессов. Анализ проводится на основе комплексного подхода с использованием методов и понятийного аппарата социальной философии, культурологии, этнологии, феноменологии, герменевтики, психоаналитики и синергетики. Впервые предпринята попытка создания в контексте мировой и общекавказской культуры концепции развития абхазской культуры и государственности.

Книга рассчитана на широкий круг читателей - историков, философов, культурологов, политологов, а также всех, кто интересуется проблемами развития абхазской культуры.
Руководитель Центра стратегических исследований при Президенте Республики Абхазия, кандидат философских наук, доцент. Известный абхазский философ и общественный деятель. Область научных интересов - социальная философия, философия культуры, культурная антропология. Автор более 80 научных работ, изданных в Москве, Киеве, Алма-Ате, Тбилиси, Ереване, Ирвайне (Колумбийский университет, США), Ростове-на-Дону, Майкопе, Сухуме. Труды О.Н.Дамениа отличаются глубиной анализа и остротой поставленных в них проблем. 

О.Н.Дамениа - видный деятель общественно-политической жизни Абхазии. Является одним из авторов известного "Абхазского письма 130-ти" (1977 г.). В 1992-1996 гг. О.Н.Дамениа был депутатом Парламента Республики Абхазия. С 2006 г. - руководитель ЦСИ при Президенте РА.
- Абхазия на рубеже веков
Олег Дамениа
Резюме книги кандидата философских наук, руководителя Центра стратегических исследований при Президента РА Олега Дамениа «Абхазия на рубеже веков»