The Exploration Of The Caucasus, by Douglas William Freshfield - Volume I & II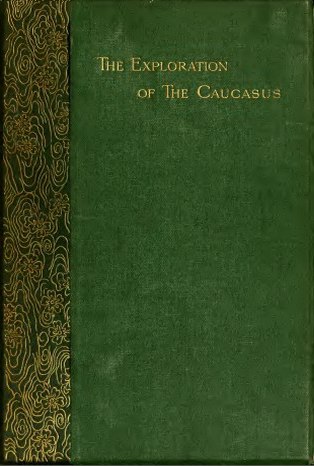 The exploration of the Caucasus (1896) 
Volume I
Author: Douglas W. Freshfield
Illustrations: Vittorio Sella 
Publisher: Edward Arnold, London & New York
Year: 1896
Language: English
Number of Pages: 278
The full book in PDF can be downloaded by clicking here (19.9 MB)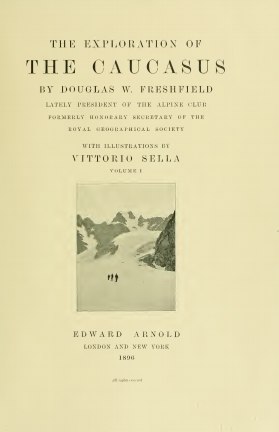 The Exploration of the Caucasus (1902)
Volume II
Author: Douglas W. Freshfield
Illustrations: Vittorio Sella 
Publisher: Edward Arnold, London 
Year: 1902
Language: English
Number of Pages: 295
The full book in PDF can be downloaded by clicking here (16.9 MB)
The Wikipedia-entry for Douglas William Freshfield begins like this: 'Douglas William Freshfield (27 April 1845 – 9 February 1934) was a British lawyer, mountaineer and author, who edited Journal from 1872 to 1880. He was an active member of the Royal Geographical Society and the Alpine Club and served as President of both organisations.' He came from a prominent family and was educated at Eton College and Oxford University, being called to the bar in 1870.
With reference to the Caucasus, his fame resides in the fact that he is credited with having been the first person to conquer Europe's highest peak (Mt. Elbrus, N.W. Caucasus) and also the North Central Caucasian peak, Mt. Kazbek, to which the legend stated Prometheus was bound. His and his team's exploits in the Caucasus were described in his magnificent work 'Exploration of the Caucasus', which appeared in two sumptuous volumes in 1896, the somewhat less luxurious 2nd edition dating to 1902. Included in the volumes are: 80 plates (comprising: 1 folding line-drawn key-plate, 2 half-tone plates [1 folding] and 77 photogravures [including 3 folding panoramas]), 4 folding maps printed in colours (one in pocket at end of vol.II, as issued), numerous half-tone illustrations, most from photographs by Vittorio Sella, M. de Déchy, Hermann Woolley and Clinton Dent.
Of particular interest to visitors to this website is the section in volume 2 entitled 'The solitude of Abkhazia' (pp.191-220), where Freshfield affectionately describes not only the wonderful scenery but also the sad desolation following the migration of the bulk of Abkhazia's autochthonous population to Ottoman lands following the end of the great Caucasian war (1864) and the Russo-Turkish war (1877-78).