Art for everyone: how a dancer from Turkey took up street-art in Abkhazia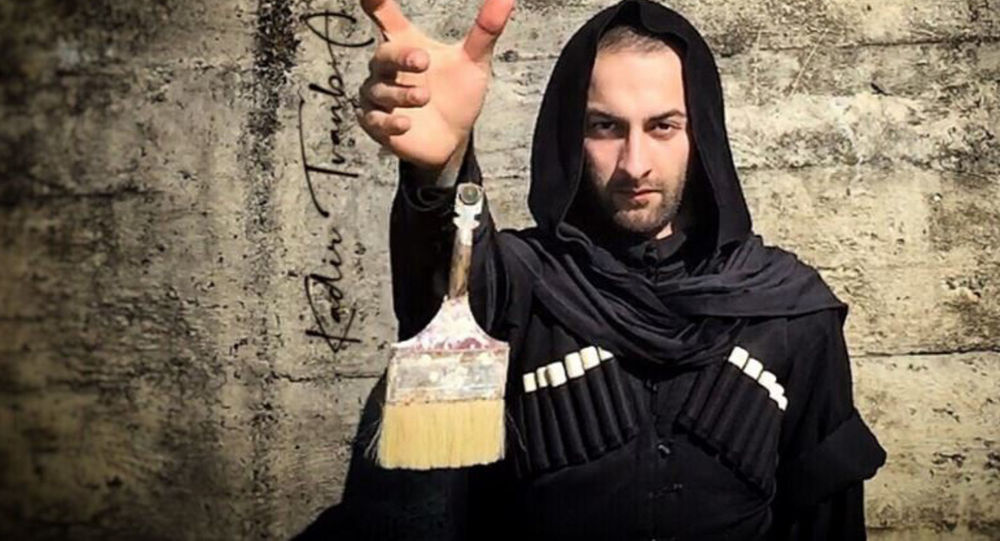 Asmat Tsvizhba | Sputnik -- Repatriant from Turkey Kadir Tvanba is one of the few street-artists in Abkhazia. In an interview with Sputnik, he talked about why working on a wall is more difficult than working on canvas, and how ideas for drawings come to him.
We met with a repatriant from the Turkish town of Düzce, a young artist and dancer, Kadir Tvanba in April 2018. At that time, he had lived in Abkhazia a little more than six months, but he was already familiar to active Instagram users, where he posted author's drawings of Abkhazian landscapes; furthermore, he had already soloed in several numbers of the state-ensemble 'Kavkaz' [Caucasus].
Wall fantasies

A year after we met, Kadir had a new hobby. The creative fantasies of the young artist no longer "fitted" onto canvas, and he decided to master street-art. His first work was a bright yellow snail on the wall along Aiaaira [Victory] Avenue. For those passing, this is just a colourful drawing. In fact, the snail is a frequent character in Kadir's work. The artist associates it with the Abkhazians who were forcibly deported by ship to the countries of the Middle East during the Caucasian War.
"The fact is that if you" sprinkle "the snail with salt, it will die almost instantly. People who moved to Turkey on ships were forced to drink seawater due to a lack of freshwater. Many died," Kadir explained to us in 2018.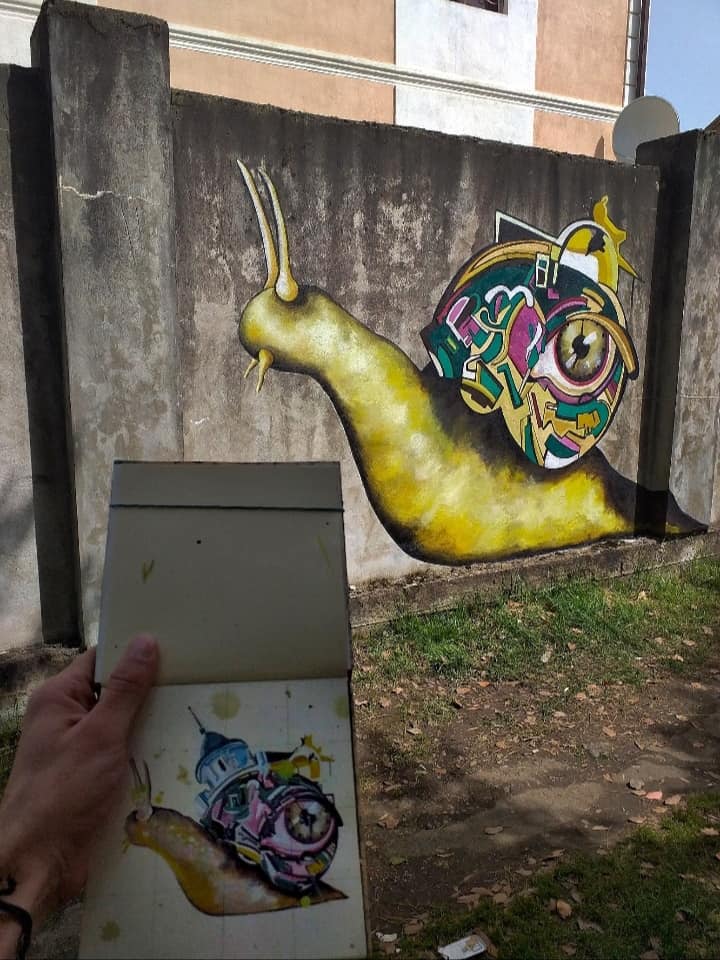 Yellow snail on the wall on Aiaaira Avenue
People who moved to Turkey on ships were forced to drink sea-water due to a lack of freshwater. Many died," Kadir explained to us in 2018. .
According to Kadir, interest in street-painting appeared in his student years at lectures on wall-painting. Later, the artist was lucky to take part in the Berlin art project 'Street-Art Berlin', where he presented his work on the theme of mukhadzhirism [migrant] - a portrait of a girl in a national Abkhazian costume. An artist takes seven days on average for one drawing. Kadir admits that painting on a wall is much more difficult - it can be damaged or just be old.
"But on the street, every person has the opportunity to see a work of art and thus be closer to art," he said.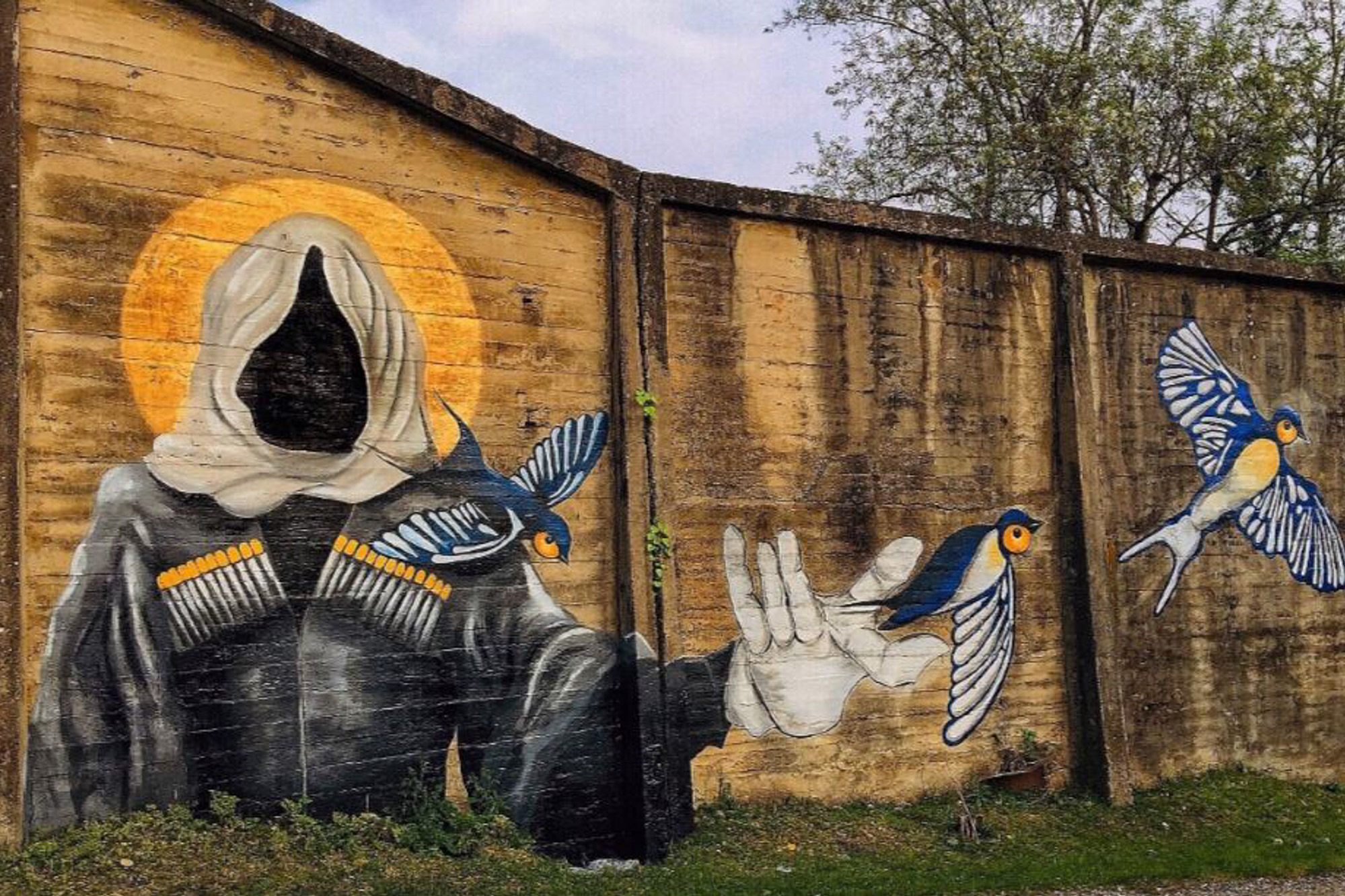 Kadir Tvanba's work on one of the streets of Sukhum 

Images and ideas for a future drawing appear by themselves - this could be: an excerpt from a read work, an event, some emotion, a piece of music. But most of Kadir's works are devoted to the history of Abkhazia and mahadzhirism. No wonder the last drawing, entitled 'Greeting the swallows', was made on Ubykhskaja Street [Street of the Ubykhs'].
"Our culture contains many elements that can be reflected in art. Art is a language that provides dialogue with the hearts of people. That is how I can convey our culture to more people. When I work on the street, I constantly hear : 'We want to see more pictures on the streets'. So far, I have never heard negative comments. Smiles on people's faces are worth all the effort expended," he said.

Kadir has plans for new street-projects. The artist did not disclose any secrets but promised that the new drawings will surely surprise the residents of Abkhazia and make them look at street-art from a new perspective. After three years of living in Abkhazia, Kadir admits that he can already easily communicate in Russian and almost does not feel any language-barrier. His friends from the university and the ensemble helped him in this.
This article was published by Sputnik Abkhazia and is translated from Russian.