The Architecture of Sukhum at the turn of the XIX-XXth centuries, by Anzor Agumaa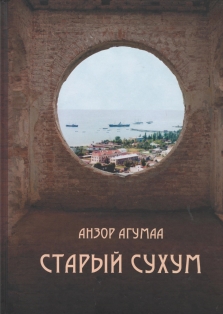 Old Sukhum: The Architecture of Sukhum at the turn of the XIX-XXth centuries.

Author: Anzor S. Agumaa
Year: 2016
Place of Publication: Sukhum, Abkhazia
Publisher: Abgosizdat [Abkhazian State Publishing-house]
Number of Pages: 304. 400 illustrations.
Language: Russian
А. С. Агумаа
Старый Сухум
Архитектура Сухума на рубеже ХIХ—ХХ вв.
Сухум: Абгосиздат, 2016.
304 с., илл. 400. Тираж 1000.
Научный редактор — акад. АНА, д-р. ист. н. О. X. Бгажба

Ministry of Culture and for the Protection of Historico-Cultural Heritage; Fund of the First President of the Republic of Abkhazia. 
Scientific Editor – Fellow of the Abkhazian Academy of Sciences, Doctor of Historical Sciences, O. X. Bgazhba
The book is devoted to the town-planning of the capital of Abkhazia, namely the city of Sukhum, the history of which amounts to more than two and a half millennia. The history of the urban development of Sukhum in the XIX-early XXth centuries is of great artistic and scientific interest. The book describes the history of more than a hundred of Sukhum's buildings – objects of urban development of the city, mostly of civil architecture. Additionally presented here is the history of the creation of parks, gardens and squares of the city, religious buildings, industrial structures, schools, sanatoria and resort-facilities, of both public and private construction. The author touches on the theme of architectural styles, as well as on the creators and users of the town-planning architecture of Sukhum during the said period. Each of the objects is provided with an illustration and textual commentary.
The book is intended for a wide range of readers, historians, architects, students, journalists and just fans of the history of Abkhazia, in particular that of Sukhum.
The author of the book about old Sukhum, Anzor Aguma, was a famous historian, archaeologist and artist, who devoted his life to the study of his native city. It would be difficult to find a person today with better knowledge of the life of Sukhum and of its inhabitants who lived here many years ago. The author collected over the course of 30 years extensive material on the history, culture and social life of the city. The book offered to the reader is but a small part of this unpublished research.
The full book in PDF can be downloaded by clicking here (24.2 MB)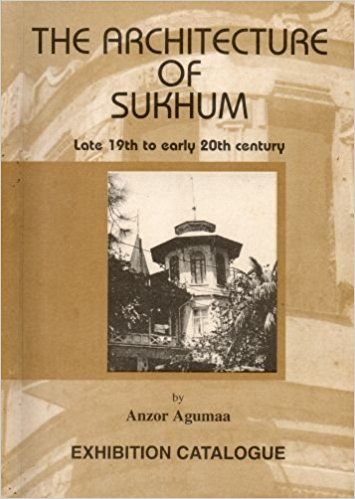 The Architecture of Sukhum - Late 19th to early 20th century

Author: Anzor Agumaa
Year: 1999
Place of Publication: Sukhum, Abkhazia
Publisher: Sukhum Society of Abkhaz History and Culture
Number of Pages: 72
Language: English 
The full book in PDF can be downloaded by clicking here (6.78 MB)

Purchase the book on Amazon
INDEX OF BUILDINGS
Abkhazia Hotel 24

Agudzera Sanatorium 50

Aloizi villa 39

Azovsko-Donskoi Commercial Bank 43

Azra Sanatorium 27

Bishop's House 66

Dr Koshko's Sanatorium 26

Dr Meerovich's Sanatorium 25

Electricity Company 58

Ellada Hotel 64

Engineer Alexander Dal's House 22

Europe Hotel and shopping center 18

German Church 17

Girls Gymnasium school 55

Grand Hotel and Aloizi theater 62

Gulripsh Sanatorium 49

Gulripsh-2 Sanatorium 51

High School and teacher training college 38

Highlander School 16

Indo-European Telegraph Office 21

Ksandopulo Brothers House 36

Laptev's dacha 60

Mir Tobacco company 59

Oriental Hotel 44

Palkovnik Averkiev villa 35

Polish Roman Catholic Church 23

Prince AG Chachba's villa 31

Prince GD Chachba's dacha 30

Prince GM Chachba's villa 32

Professor Ostroumov's dacha 19

Professor Ostroumov's Hospital 20

Real Grammar School 37

Riviera Hotel 52

Russia Hotel 29

Russian Orthodox Convent 61

Russian Steamship and trade company 34

Samuridi's theater and Nauki 1 Zhizn cinema 67

Samuridi's Villa 28

San Remo Hotel 40

Serebriannikov's dacha 45

Sinop dacha 69

Sinop dacha of Prince AN Ramanov 68

Smetskoi's dacha and subtropical garden 47

Stephanidi residence 46

Sukhum Cathedral 65

Sukhum Mutual Credit Company 56

Telegraph and Post Office 54

Yanovsky's villa 42