Inside Abkhazia: Survey of Attitudes in a De Facto State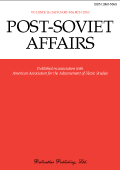 Journal:    Post-Soviet Affairs
Publisher:    Bellwether Publishing, Ltd.
ISSN:    1060-586X (Print)
Subject:    Social Science, Politics and International Relations, Area Studies Russia and East Europe, Conflict, Security and Strategic Studies, Humanities, Social Sciences and Law and Political Science
Issue:    Volume 27, Number 1 / January-March 2011
Category:    Article
Pages:    1-36
DOI:    10.2747/1060-586X.27.1.1
Online Date:    Wednesday, February 09, 2011
Authors
John O'Loughlin1, Vladimir Kolossov2, Gerard Toal (Gearóid Tuathail)3
1 University of Colorado-Boulder
2 Russian Academy of Sciences, Moscow
3 Virginia Tech (National Capital Region), Alexandria, VA

Abstract
Testing claims about a region often glibly described by outsiders, thus checking assumptions upon which policy recommendations are based, this article examines residents' attitudes in the de facto state of Abkhazia. The results of a nationally representative social scientific survey in Abkhazia in March 2010 are presented in five themes—security and perceived well-being, the life-world identifications of respondents, views of state-building principles, the state of reconciliation between the divided communities and the potential for displaced-person returns, and views on current and future geopolitical relations with Russia and Georgia. The findings shed light on the broad contours of the internal legitimacy of the Abkhazian state and society.
The article in PDF can be downloaded by clicking here (4.32 MB)