South Ossetia and Abkhazia: Notes from the inside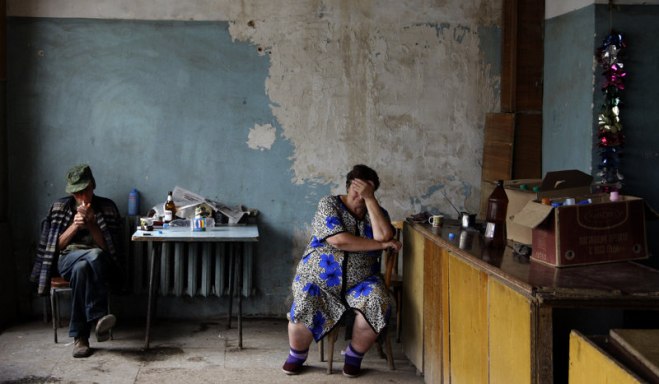 "Moscow waited for almost 24 hours, during which Georgian artillery and planes were sending the capital of South Ossetia to ruins. Almost 1600 people were killed in the shelling. Now it is being presented by the mainstream media exclusively as Russia's intervention and expansionist policy." --Centre for Humanitarian Programmes, Republic of Abkhazia.
American news coverage of the US-Georgia-Russia conflict continues to be appalling--blindingly biased and simplistic, and yet my knowledge of the regions of South Ossetia and Abkhazia is scant.
On August 12, I received an e-mail from a humanitarian organization in Abkhazia describing events as they had unfolded on the ground in South Ossetia. I wrote directly to them. What is below is the e-mail response I received from Liana Kvarchelia. She has kindly given me permission to post it on 3quarksdaily.

September 2, 2008
Dear Laray,
I am glad that there are people who are interested to hear the other side of the story. Indeed I was told by friends in the US that the coverage there is extremely one-sided. I do not know if you read Russian. If so, I can recommend you a website www.apsny.com. Apart from that you can find some information on our country and the situation in www.circassianworld.com. There are some articles there including mine. I have also written about the conflict for the Accord series published by "Conciliation Resources", based in London.

On the whole I must say that we have found ourselves (not without some doze of surprise) in the epicenter of global conflict. It is clear to many people that there is power struggle going on between the US and Russia, with EU trying to accommodate their own interests, that not always compliment each member states' vision. However our conflict with Georgia has a much longer history that the EU, and definitely longer than Georgia's plans for NATO accession.

When at the end of the 19th century many Abkhazians having lost to the Russian Empire fled to Turkey and further, other ethnic groups were competing in resettling the vacated territories. Later when the Bolsheviks came, Abkhazia as well as Georgia became union states with an equal status within the USSR. But Jozef Stalin, Georgian by origin, reduced the status of Abkhazia to an autonomy within Georgia in 1931.

The Abkhazian language was banned, it was substituted by Georgian. Since the '30-40s the second wave of Georgian settlers came to Abkhazia. This process continued throughout our existence in the USSR as a Georgian autonomy. That's how we ended up a minority on our land. The 1990s was the time when Georgian nationalism was at its peak. "Georgia for Georgians" was a popular slogan. All non-Georgians were announced to be "hosts on Georgian land." Not many people even in the USSR knew that Abkhazians protested against being within Georgia even in the Soviet times, every decade. But in the '90s these protests became known to the world.

On 14 August 1992 when the Abkhazian Parliament was discussing a draft proposal for a Federation with Georgia, the Georgian bombs started falling on our heads, and the Georgian tanks attacked our towns and villages. It was a bloody war, with crimes committed first by Georgians and then by Abkhazians. The Georgians purposefully burnt down our State Archives and our Institute of Literature, History and Culture. It was quite symbolic. You can read about all this in the UNPO report that organized a fact finding mission to Abkhazia in 1992.

You can also read about it in Tom de Waal's article specifically devoted to the State Archives. Georgia lost the war, but tried to use its anti-Russian position to mobilize (quite successfully) Western support for its so-called "territorial integrity."

I respect the people of Georgia, and I respect their desire to be independent, but I also want them to respect my people's desire to be independent too. Not long ago I was interviewed by a US public TV company. You can find the interview on their website pbs.org.

I hope people in the US will be questioning what they hear from the mainstream media. There are some people in Georgia whom I know personally, and who are questioning the policy of their leaders. I hope that their number increases.
All the best,
Liana Kvarchelia
Centre for Humanitarian Programmes
Sukhum, Republic of Abkhazia
Further reading:
Julian E. Barnes and Paul Richter, "NATO rapid-response unit proposed to address fears about Russia," LA Times, 19 September 2008
Noam Chomsky, "Toward a Second Cold War?," CounterPunch, 11 September 2008
Michel Chossudovsky, "The Militarisation of the Eastern Mediterranean: Israel's Stake in the
Baku-Tbilisi-Ceyhan pipeline," Global Research, 23 May 2006

Laray Polk lives in Dallas, Texas. She can be contacted at This email address is being protected from spambots. You need JavaScript enabled to view it.
Source: 3quarksdaily.blogs.com