The Foreign Minister Viacheslav Chirikba met with the representative of the Republic of Abkhazia in Syria Sharaf Marschan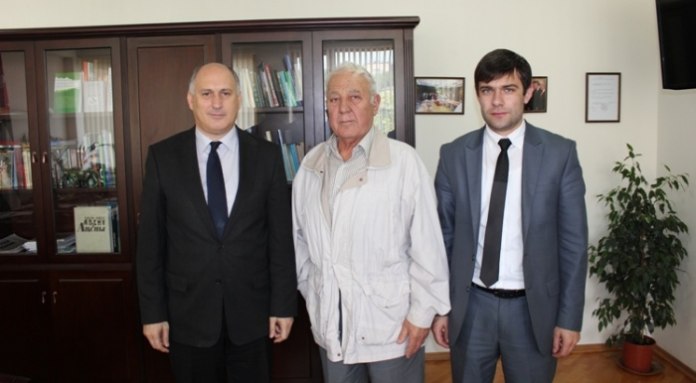 SUKHUM -- Sharaf Marschan long time was the chairman of the organization of the Circassian and Abkhaz-Adyghe people in Damascus "Adyghe Hase" and also the member of the Syrian Parliament of the third convocation.
At the meeting was discussed the difficult situation in Syria and the situation of our fellow citizens in this country. Sharaf Marschan said that the situation in Syria is deteriorating every day. "Three villages, which were home to the Abkhazians and Circassians, had been destroyed by the war. By now another group of countrymen is ready to return to their historical homeland". Sharaf Marschan pointed out that some of them have problems with getting the Russian transit visas. "This issue was discussed at our last meeting with the Russian Foreign Minister, who expressed willingness to assist. The lists of compatriots wishing to return home, will be sent to the Consulate of the Russian Federation in Damascus and Beirut", - said the Minister.
Viacheslav Chirikba asked Sharaf Marschana about how the returning compatriots settled in Abkhazia and what kind of problems they face. Sharaf Marschan noted that the Government of the Republic of Abkhazia did great job on the settlement of the newly arrived compatriots. "We were provided good conditions for life as well as significant financial aid. The support provided to us by the Republic of Abkhazia, has been praised in our communities in the Arab countries, Europe and in Syria itself. Today Abkhazia is the first country to provide such effective support to their compatriots from the first days of the conflict. On behalf of all fellow citizens living in Syria, I want to thank the President of the Republic of Abkhazia, the country's Foreign Ministry, the State Committee for Repatriation, the Parliament and the people of Abkhazia for support during this difficult time for us".

The participants of the meeting noted that the language barrier is an objective factor hampering the employment process of the repatriates from Syria. The Minister stressed the need to continue to effectively address all the arising issues.