Abkhaz president to visit Turkey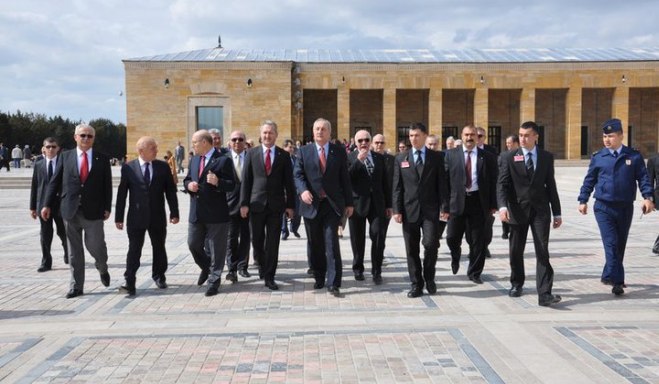 Hasan Kanbolat, Today's Zaman
Abkhaz President Sergei Bagapsh is expected to visit Turkey at the invitation of the Federation of Abkhaz Associations (ABHAZFED) and the Federation of Caucasian Associations (KAFFED).
Bagapsh will reportedly attend various events in Turkey before returning to his home country. Bagapsh is expected to be in Ankara on April 7-8 and in Adapazarı and İstanbul on April 9-10.
On Sept. 8, Bagapsh declared his intention to visit Turkey, saying: "I am planning to visit Turkey and meet the Abkhaz diaspora there. I have never been to Turkey. It is a country where many of our people live. It is wrong for a president of Abkhazia not to have visited Turkey and its Abkhaz community in the last five years." Bagapsh had previously declared his eagerness to visit Turkey on several occasions, but those plans had to be postponed due pressure from Tbilisi. Bagapsh sees Turkey both as a close neighbor and a close relative. The fact that Turkey is a "second home" to many Abkhazians further adds to Turkey's importance in the eyes of Abkhazia. Accordingly, the Abkhaz president attaches great importance to its ties with Ankara. "There are many Turkish citizens of Abkhaz origin in Turkey. It is hard to predict how relations will be established. Still, we must start with good neighborly relations. Bilateral relations may start with economic ties and travel between our two countries. We need to create transportation facilities between Abkhazia and Turkey," he said.
Abkhazia is located on the southwestern coast of the Black Sea and has a surface area of 8,600 square kilometers and a population of 300,000. Its population before the Georgian-Abkhaz war of 1992-1993 was 550,000. During the Soviet era, it was an autonomous republic connected to Georgia and with the collapse of the Soviet Union, it unilaterally declared its independence from Georgia on July 23, 1992. The Georgian-Abkhaz dispute developed into a war with Georgian forces entering Sukhumi on Aug. 14, 1992. This war ended on Sept. 30, 1993, not only bringing social and economic destruction to Abkhazia, but also eliminating any possibility of a reunion between two countries. Georgia adopted Christianity in the fourth century, accepted becoming a vassal for Czarist Russia in 1783, became a province directly connected to Czarist Russia in 1801 and accordingly turned its face toward Russia until the collapse of the Soviet Union; however, Abkhazia followed a different policy. Abkhazians banded together with other people of the North Caucasus with whom they share common ethnic and cultural roots and they resisted the invasion by Czarist Russia, which later subjected about 70 percent of the Muslim Abkhaz population (Sunni/Hanafi) to genocide and forced migration -- to the Ottoman Empire -- in 1864 and 1878. This created the very foundations of the Abkhaz issue that has survived to the present. Currently, there are more Abkhazians in Turkey than in Abkhazia.
Abkhazia's immediate fear is about the danger of complete destruction. Abkhaz intellectuals are concerned with the lack of international recognition of their status, low rates of population growth and an increased domination of Russian over the Abkhaz language. So they seek to develop their relations with Turkey with the intention of ensuring stability and security of Abkhazia, boosting the Abkhaz population and compensating for its relations with the Russian Federation and Georgia.
In this context, Bagapsh is very likely to demand the removal of the embargoes on sea and air transport and trade being imposed on Abkhazia. Today, 70 percent of Abkhazia's imports are from Turkey while 30 percent of its exports are to Turkey. Despite economic, historical and blood ties and despite the fact that there are many US, EU, German, British, Italian and French nongovernmental organizations (NGOs) in Abkhazia, there is not a single Turkish NGO operating in this country.
By blocking Abkhazia's humanitarian and economic relations with Turkey, Tbilisi has prevented Abkhazia's integration with the Black Sea and the West. Tbilisi's Abkhazia policies under the Saakashvili administration have urged Abkhazia to get closer to the Russian Federation. "If you want a door to be opened, you should first knock on it," says an Abkhaz proverb. This is what Bagapsh will do in Ankara. Yet, his knocking may also open other doors as well. It may become a turning point in Abkhazia's relations with Turkey, Georgia, and the West. Therefore, Bagapsh's visit and the messages to be given during his talks in Turkey will be critical in terms of how the future of Abkhazia, Georgia, the Russian Federation, Turkey and the Caucasus will be shaped.
Source: Today's Zaman