President Alexander Ankvab meets parents of our Turkish compatriots who died for freedom of Abkhazia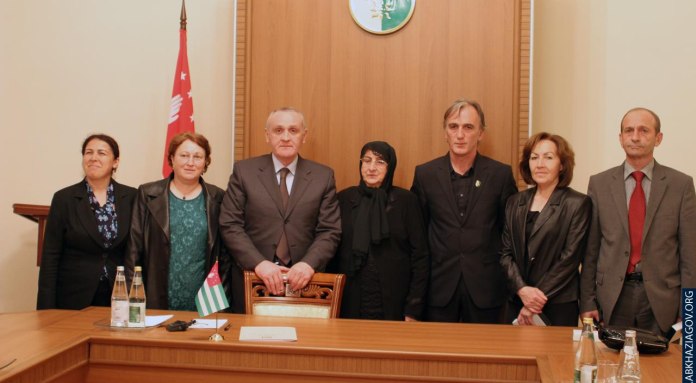 SUKHUM - President Alexander Ankvab met the parents of our compatriots from Turkey who had died for freedom of Abkhazia.

They have arrived in Abkhazia to celebrate the 20th anniversary of the Victory.
Parents of Efkan Tsyba, Vedat Kvadzba, Zafer Argun, Bakhadyr Abagba, and Hanef Yogozh attended the meeting with the President.

Alexander Ankvab congratulated the parents on the 20th anniversary of the victory, thanked them for bringing up the sons who had come to defend their homeland in the most difficult times for it.

"Thanks to such boys as your sons, today we have freedom and independence. The people of Abkhazia will never forget your sons. Their heroism went down to history of Abkhazia forever", the President said.

The lost soldiers' parents thanked the President for his warm welcome. Many of them had visited Abkhazia and their sons' tombs for the first time.

"You receive us with honor. You don't forget our sons, you revere their memory. Thank you for that. Our sons didn't die in vain. Today we are proud of Abkhazia", Zafer Argun's mother Rukhie Kardanpkh said.

Mothers of Guli Kichba, Firuz Kapba, and Aza Agumava thanked the parents for bringing up worthy sons.

A member of the Parliament Fazlybey Avidzba also thanked the parents for participating in the Victory celebrations.