Turkish Investment and Trade Booms in Abkhazia, by Nick Clayton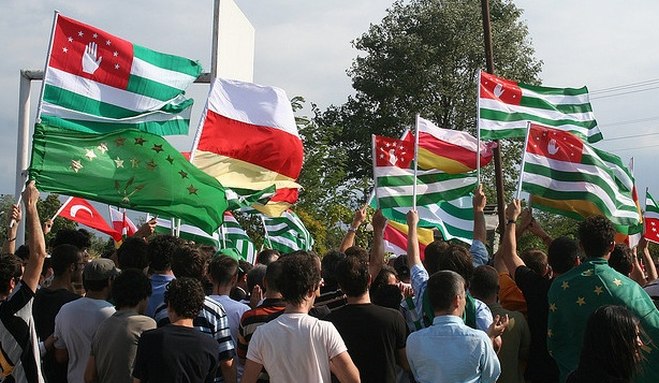 Tabula.ge -- Although Georgia continues to officially maintain an embargo on the breakaway republic of Abkhazia, experts and local observers now believe that the Georgian Coast Guard may have backed off enforcing the embargo and is no longer seizing Turkish ships bound for Abkhazian ports.
Abkhazia has been under an official blockade and a ban on all economic activity imposed by the Commonwealth of Independent States since 1996. Although Russia began progressively lifting economic sanctions on Abkhazia in 2000, causing land trade to increase, Georgian navy patrols continued to make sea trade with Abkhazia sparse and treacherous.
More than 60 ships were reportedly captured by the Georgian navy between 1999-2009. Often times the ships were later auctioned off and their crews briefly imprisoned. But, Argun Baskan, a researcher with the Economic Policy Research Foundation of Turkey said that since Russia recognized Abkhazia as independent in 2008, economic and cultural ties between Turkey and Abkhazia have greatly increased.
Baskan, who co-authored a report on the issue in December 2009 entitled "Abkhazia for the Integration of the Black Sea," said that the Abkhaz diaspora community in Turkey, numbering about 500,000 people, has been very active in lobbying Ankara for a restoration of transit links and deeper economic and political ties with Abkhazia.
On some level, Ankara appears to be listening. Since Russia's recognition, Turkey has increased its high-level diplomatic contact with Abkhazia, twice sending senior diplomats to Abkhazia for meetings with de facto Abkhaz Prime Minister Sergei Shamba in the last two years. After the most recent visit in April 2010, Turkish Ambassador to Georgia Murat Burhan, who was among those who made the trip, said that working groups had been set up to expand bilateral ties between the two sides and that Turkey hoped "to discuss establishing direct trade relations with Abkhazia."
Although only a small number of ethnic Abkhaz Turks have returned to Abkhazia since 2008 – about 50 families per year, Baskan estimated – those who have traveled to Abkhazia have been very influential in the development of the Abkhazian economy, launching businesses and import-export companies, he said.
Akhra Smyr, an Abkhaz political analyst said in an interview with Tabula that both the presence of Turkish ships and Turkish backed business investments have boomed in the last year and a half. A Tabula reporter observed five different ships bearing Turkish flags in the port of Sokhumi during a two-day period in early February. Some bore both Abkhaz and Turkish flags and all were fishing vessels except one container ship, which unloaded various goods.
Two events in late 2009 seem to have all but halted the enforcement of the sea blockade against Abkhazia.
First, the seizure of the Turkish tanker, "Buket," reportedly carrying 17 Turkish crew members and 2,800 tons of fuel, in August 2009 ignited a diplomatic row with Turkey after the Turkish captain was sentenced to 24 years in prison for violating the blockade.
Turkish Foreign Minister Ahmet Davutoglu promptly flew to Tbilisi, and within five days of his conviction, the captain was released. According to Turkish daily, Today's Zaman, this incident led to a meeting between Georgian Foreign Minister Grigol Vashadze and his Turkish counterpart the following April, during which a framework for Turkish-Abkhazian relations was discussed.
At the same time, in September 2009, Russia announced that it would be sending its coast guard vessels to protect Abkhazia's "territorial waters," and said it would engage any Georgian ships attempting to seize Abkhazia-bound ships. The two largest ships in the Georgian Navy were both destroyed in the August 2008 war with Russia, and since then, the Georgian Coast Guard, which officially absorbed the navy in 2009, has been ill-equipped to battle Russian vessels patrolling de facto Abkhazian waters.
The Georgian Coast Guard has only publicly acknowledged capturing one ship headed for Abkhazia since 2009 – a Ukrainian vessel, which was released along with its crew in 2010 with no charges or fines imposed.
The Georgian Ministry of Defense declined to comment on the status of the blockade and illicit trade with Abkhazia.
Baskan said that it remains difficult to collect data on the precise volume of trade currently occurring between Abkhazia and Turkey, because those engaged in the commerce are loathe to report it due to legal concerns. However, according to a report written by Abkhaz economist Beslan Baratelia cited in the Turkish Policy Quarterly, about 60 percent of imports in Abkhazia come from Turkey while about 45 percent of Abkhazia's exports were sold in Turkey. Baratelia estimated that in 2007, before significant investments made by Russia and also the boom in Turkish trade and investment, that about 30 percent of Abkhazia's governmental budget came from customs duties on trade with Turkey.
Baskan wrote in his report last July that Turkish diplomats have been discussing with their Georgian counterparts a restoration of transportation ties between Turkey and Abkhazia, including air and sea links between Trabzon and Sokhumi. One possibility would be for ferries to make a stopover in Batumi in order to go through a customs check before continuing on to Abkhazia.
Still, Turkey's investment and business involvement in Abkhazia has been largely dwarfed by the hundreds of millions of dollars invested by the Russian government and private Russian companies since the 2008 war, analysts said. And, although Baskan said he believes overall Turkish trade and economic ties will continue to grow within Abkhazia and Turkish companies will try to compete for development projects connected to the 2014 Sochi Olympics there, Ankara's political stance is unlikely to change.
He said the prospect of Turkey recognizing Abkhazia as independent remains "highly unrealistic" and Ankara's political stance toward Abkhazia would continue to be in line with the U.S. and NATO in general. Nonetheless, he said he believes that increasing Abkhazia's ties with the rest of the world will ultimately be a positive development for the peace process with Tbilisi.
"In the end, the more Abkhazia opens up to the world, the more open-minded they are going to become towards the idea of relations with everyone, that includes Georgia," he said.
Source: Tabula