Bzhania Thanked His Supporters and Called for Politics to Return to Offices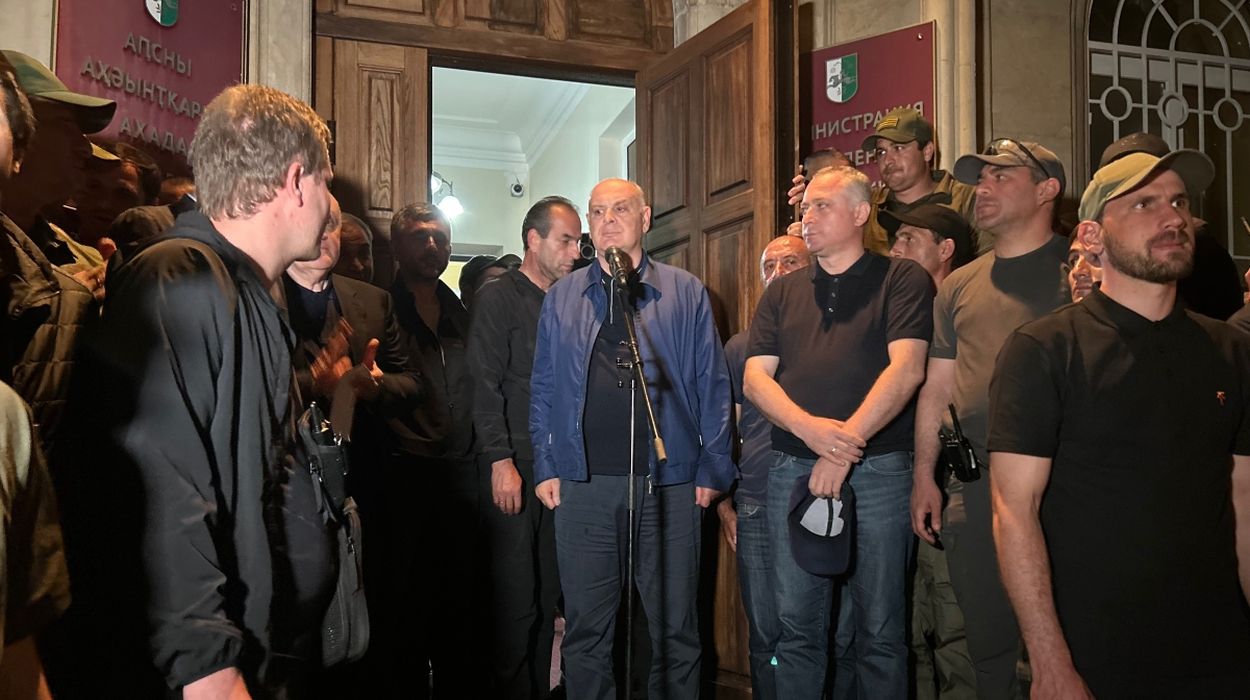 SUKHUM / AQW'A — In Sukhum today, May 30th, a dual display of political sentiments was on full show. Opposing factions voicing disapproval against the current administration assembled near the drama theatre. Meanwhile, a robust gathering of President Aslan Bzhania's supporters rallied at the government complex.
Following a meeting with opposition representatives, Sergey Shamba, the Secretary of the Security Council, took the stage at the government complex. He shared insights into the outcomes of their discussion. Later, President Bzhania addressed his audience, expressing gratitude for their presence and reassuring them that the paramount duty of his government is to serve the people.
President Bzhania acknowledged, "All those who have gathered here, as well as those stationed in the square at the Abkhazian drama theatre, we stand united as representatives of one people. Each individual demonstrated remarkable resilience and commendable behaviour. It's preferable if such gatherings were not necessary, but when they occur, it is vital to maintain a lawful course, which is what transpired today."
Bzhania reiterated that his team's singular mission is to serve the Abkhazian people. "Undeniably, there remain unresolved issues and challenges that we have yet to overcome. Yet, I want to assure you that we will expend every effort, today, tomorrow, and every day after, to create the conditions for their resolution. Like you, I aspire for our people to flourish, our state to fortify, more children to come into our world, for Abkhazia to enjoy prosperity, and for every family to experience well-being. I yearn for our children to have access to quality education. To realise these ambitions, we must commit to relentless effort," he was quoted as saying by the "ApsnyPress" news agency.
+ Abkhazian Opposition Stages "People's Rally" in Sukhum
+ Opposition Rally in Sukhum Adopts Final Resolution Demanding Government Resignation
+ President Bzhania Rejects Demands, Opposition Announces New Protests
The President expressed his belief that political concerns should find resolution within office walls, not on squares and streets. "We're committed to this path and intend to redouble our efforts to return politics to the offices," Bzhania reiterated, thanking all the attendees once more.
Openness and readiness for dialogue were key themes in Bzhania's address. He acknowledged the demands voiced that day, noting they would require diligent work and a thoughtful approach. "There are bills we've begun deliberating, and others yet to be discussed. We count on your continued support and collective efforts," the Abkhazian leader stated.
Post the President's speech, the gathering at the government complex gradually dispersed, while the security forces maintained their watch over the facility.