The Brotherhood of Warriors: Abkhazia's Volunteer Heroes and the Chechen "Wolf Pack"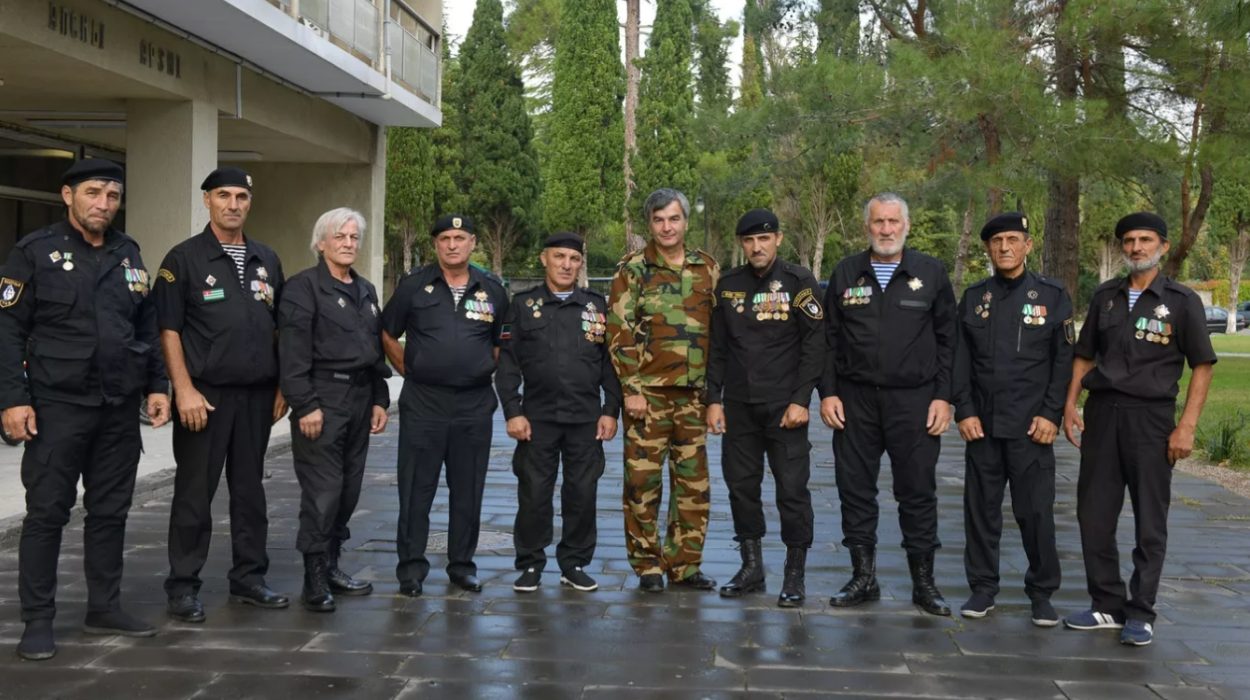 First published on October 2018
During the Georgian-Abkhazian war of 1992-1993, thousands of volunteers from various countries arrived to defend Abkhazia. Shortly after the liberation of Gagra on October 24, 1992, the Confederation of Mountain Peoples of the Caucasus (CMPC) established its headquarters in Gudauta.
Learn why this headquarters was established, how the "wolf pack" from Chechnya fought for Abkhazia, and what volunteer Dzhamal Bolatchiev from Karachay-Cherkessia told his family before leaving for the war in this article.
A Common Home
From the first days of the Abkhazian people's Patriotic War in 1992-1993, a volunteer movement began to take shape. Volunteers from the North Caucasus republics, southern Russia, and the Caucasian diaspora abroad started arriving in Abkhazia.
On August 15, 1992, just one day after the war began, the first group of volunteers led by Sultan Sosnaliev arrived in Gudauta. On October 24, the CMPC headquarters was set up in the Gudauta forestry office. Musa Shanibov, the organiser of the entire volunteer movement, became the first head of the CMPC operational headquarters. Lili Khagba, author of the book about the volunteers titled "Their Souls Melt Over the Mountains," Doctor of Philology, and recipient of the Order of "Akh'dz-Apsha" III degree, also worked there.
"We welcomed volunteers there, creating comfortable conditions for them as much as possible during wartime. Of course, they died and were injured. We visited them in the hospital, fed them, and met their families who often came," Khagba shared her memories.
In the autumn of 1992, the number of volunteers arriving in Abkhazia increased significantly. When the first volunteers were killed, Khagba realised that time was running out, and it was urgent to start collecting information and preparing essays about them, which were later included in the book "Their Souls Melt Over the Mountains." About 20 stories were published even before the war ended.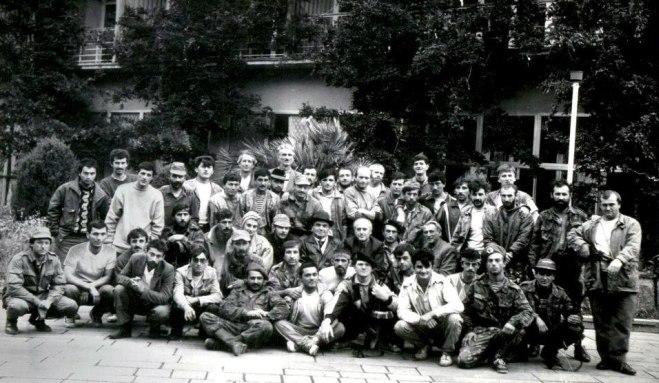 Musa Shanibov (centre) with the volunteers of the Confederation of Mountain Peoples of the Caucasus. Abkhazia.
The establishment of the headquarters allowed for more careful and accurate record-keeping of the volunteers arriving in Abkhazia and tracking their further fate.
"We maintained all the documentation and record-keeping. Everyone who arrived at our headquarters after the CMPC was established, I knew them all. They were all different, of course, but one thing united them – their readiness to give their lives for Abkhazia. They knew they could die, but none of them showed weakness," emphasised Lili Khagba.
The "Wolf Pack"
In anticipation of the anniversary celebration of Abkhazia's Victory and Independence, volunteers and families of fallen volunteers from the North Caucasus were invited to rest for free at the Pitsunda resort. This tradition was initiated in 1998 by the first president of the republic, Vladislav Ardzinba.
Among the 180 attendees, 53 were from Chechnya – members of the group "The Wolf Pack." This unit began forming immediately after news of the first armed clashes with Georgians in Abkhazia reached Chechnya. The first volunteers from Chechnya came to Abkhazia through the passes of the main Caucasus ridge and by sea to the shores of Gudauta.
"Many were eager to go to Abkhazia and help our brothers. Among us, there were comrades who travelled from Chechnya to Abkhazia on foot, carrying weapons and ammunition. Of course, there were many obstacles on the way. Travelling by sea was even riskier than through the mountains," recalls the Order of Leon recipient and Chairman of the Association of Volunteers from Chechnya, Vakhtang Kerimov - one of the three native brothers who came to help the Abkhazians. On August 19, 1992, five KamAZ trucks loaded with armed volunteers, about 250 people, left Chechnya early in the morning. At almost every traffic police post, they were tried to be turned back. It was difficult, but they still managed to negotiate, as told by Hero of Abkhazia Alkhazur Suleymanov, who worked as the deputy director of Grozny Television at the time.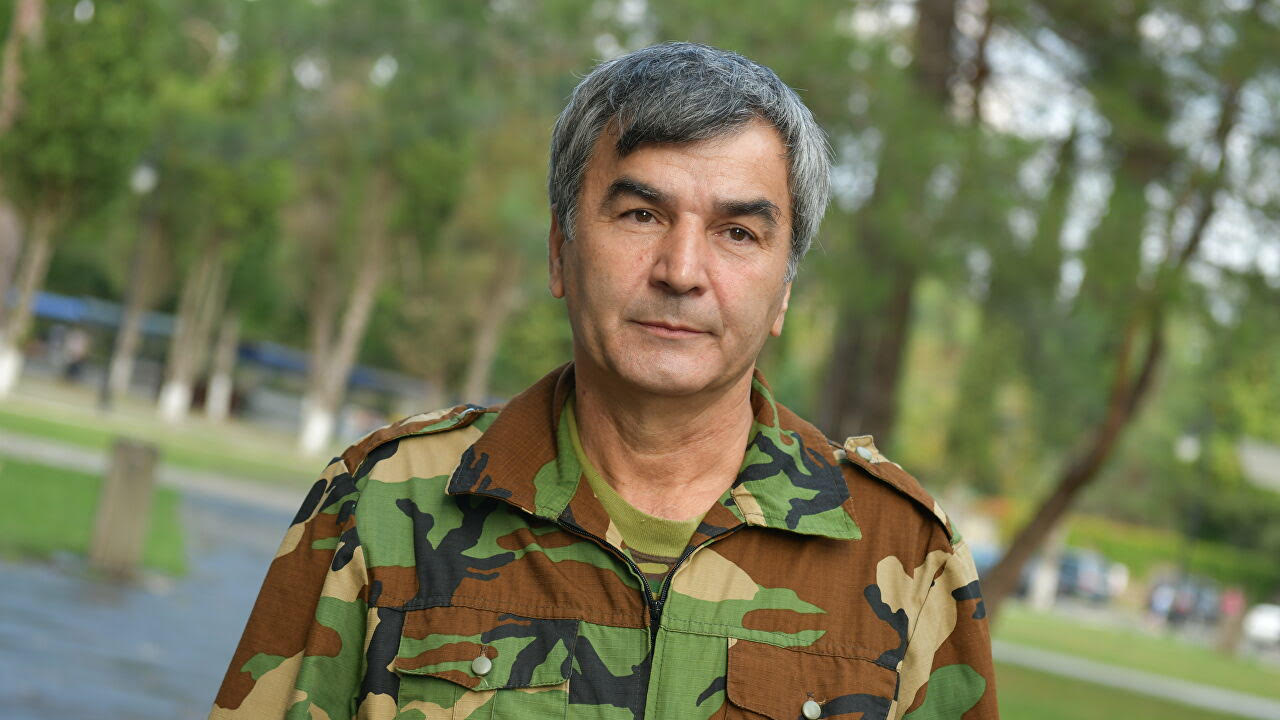 Hero of Abkhazia and Chechen volunteer, Alkhazur Suleymanov, who bravely fought in the 1992-1993 war, passed away on January 15, 2022.

The "Wolf Pack" continued to grow in numbers throughout the war. Over time, it evolved into an international unit, with members not only from Chechnya but also from other nations across the Caucasus and Transcaucasia.
Suleyman Yakhyaev, a recipient of the Order of Leon, suggested that a monument should be erected in Abkhazia to honour the horses that played a crucial role in the war effort. He and his comrades had traversed their way to the republic on horseback.
"Our first comrades-in-arms were horses, and a monument in their honour should be erected in Abkhazia. We couldn't have managed without them. On the way here, we were greeted and fed by local residents. We never went hungry, but sleep was hard to come by. We drank water and reported to the headquarters upon arrival. This happened near the village of Shroma," Yakhyaev reminisced.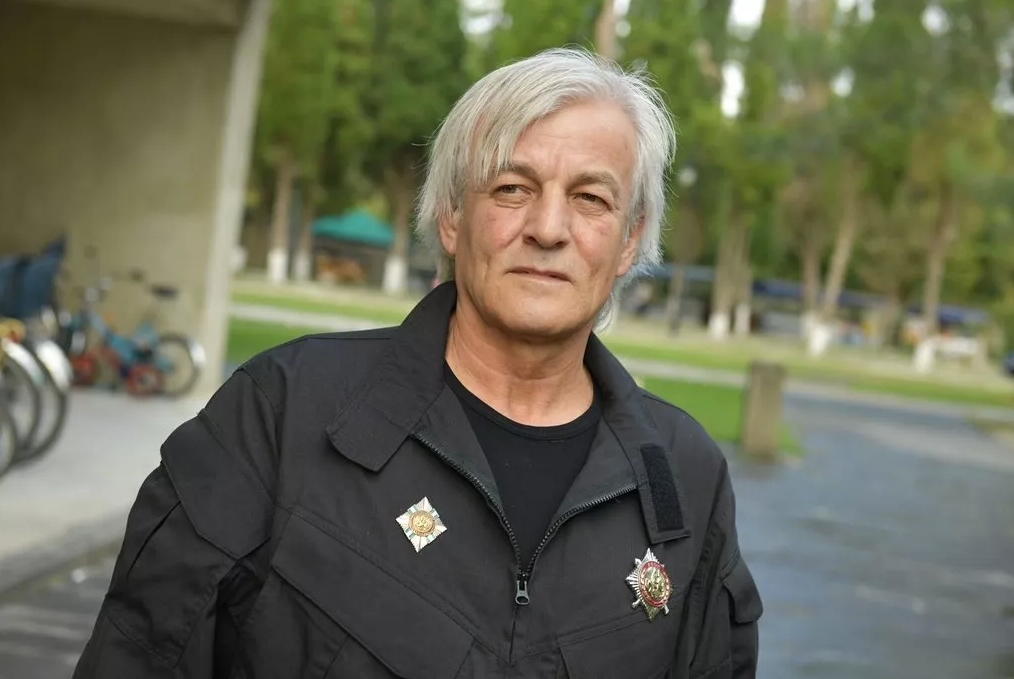 Suleyman Yakhyaev
Near the same village, Chechen volunteers engaged in their first battle and suffered initial losses. Their return journey to their positions took three days and nearly ended in tragedy when their own forces fired upon them, mistaking them for armed individuals approaching from the enemy side. Fortunately, the misunderstanding was quickly resolved.
For Amradi Kerimov, the war in Abkhazia was not his first conflict. By the age of 24, he had already experienced combat in Afghanistan's hotspots. However, it's impossible to be prepared for everything, and having a reliable comrade close by can often make the difference between life and death.
+ Heeding the Call of the Heart: Volunteers in the Patriotic War of the People of Abkhazia
+ How nations united: Formation of the Confederation of Caucasian Peoples
On one occasion, near Mount Mamzyshkha, Kerimov and his Abkhazian friend Felix (whose last name he couldn't remember) went on a reconnaissance mission to enemy positions and narrowly escaped a trap.
"Felix and I were walking through the forest just above the Georgian positions. We didn't know they had set traps there. Suddenly, I fell into a deep pit with sharp stakes. I managed to grab onto a branch mid-air, but my hand was slipping. Felix quickly found a long stick and handed it to me. That's how he saved my life," Kerimov recalled.

Bound by Blood
Alim Vakaev, a member of the "Wolf Pack," has a rare blood type – third negative. In late October 1993, he donated blood to a wounded Abkhazian soldier whose name remains unknown to him. Vakaev hopes to meet the soldier someday.
"A senior lieutenant from Gudauta came in a Mercedes, having searched for blood for a wounded soldier for two days. I donated my blood. I don't know anything else. I'd like to find out what happened to the wounded person and have our families become friends. After all, we share the same blood," Vakaev expressed, hopeful for a future encounter.


+ Selected FBIS Reports on Chechen War & Abkhazia
Vakaev noted that the war wasn't just fought on the front lines but also in the information domain. When he and around fifty Chechens arrived in Abkhazia in April 1993, the media reported that 500 "wolves" had entered the republic. This act of intimidation put the enemy forces on edge, according to Ahiyat Izhiev, the oldest member of the "Wolf Pack."
One of the youngest Chechen volunteers was Ruslan Kerimov, who was not even 15 years old at the time. He and a slightly older friend followed their brothers to Abkhazia.
"We left Chechnya by train to Armavir. From there, we hitchhiked to Adler. We took a bus to the border, but they didn't want to let us through. Abkhazian guys helped us. I don't remember exactly when it was, but I know that Shroma and Kaman hadn't been liberated yet. I'll never forget the night when we met my brother," Kerimov recounted.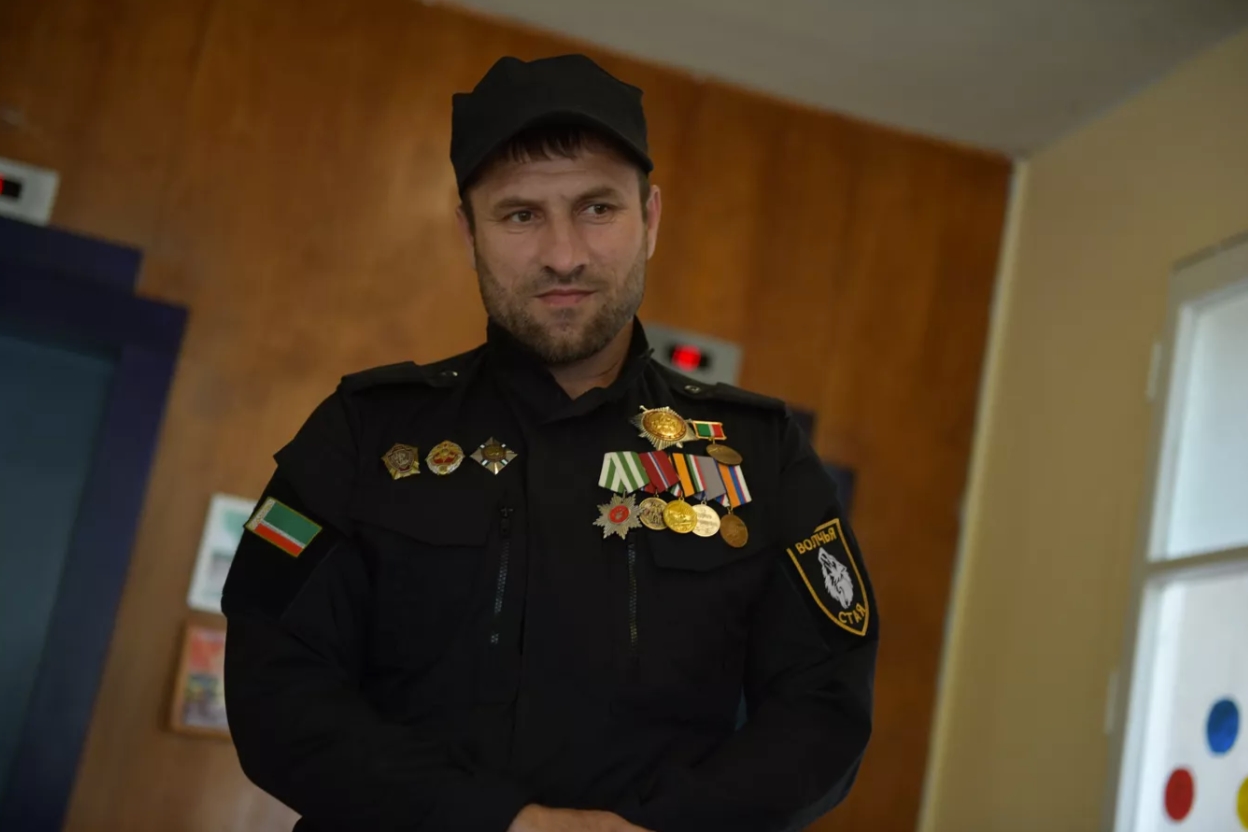 Ruslan Kerimov
Exhausted from the long journey, Ruslan managed to fall asleep amid the thunder of exploding shells. As he slept, he felt someone trying to wake him up. Opening his eyes, the teenager could hardly believe that the scene was real, with his brother Vakhid standing beside him.
"What are you doing here?" Vakhid asked sternly, unable to convince his younger brother to return home.
Occasionally, the volunteers took on the role of "sea wolves." One night, Mairbek Mazhiev and several other brave men boarded a motorboat and went hunting for Georgian ships at sea. Not finding any ships near Gudauta, they headed to the Sukhum port. There, they encountered several enemy ships and attacked them with all available weapons. The daring act became the talk of the town the next day.
+ Hero of Abkhazia Alkhazur Suleymanov Has Passed Away
+ Military Aspects of the War. The Battle for Gagra (The Turning-point), by Dodge Billingsley
The Chechen "wolves" participated in the celebration of Abkhazia's Victory and Independence anniversary. Together with their comrades, they opened the Victory Parade and marched through Freedom Square on September 30 in Sukhum.
For many volunteers like Kerimov, Abkhazia has become a second home, even if visits are infrequent. Kerimov plans to relocate to the republic permanently, having already begun construction on a house in the Pitsunda village of Alakhadzi and planting several fruit trees.
Heeding the Call of Conscience
Dzhamal Bolatchiev was 22 when he joined the war in Abkhazia, hailing from Karachay-Cherkessia. His mother, Klara Bolatchieva, remembers that her son became restless after learning about the conflict in the republic. On the third day, he declared his need to leave on a mission.
"We didn't know exactly where he was going. I gave him 750 rubles and a passport for the journey. He told me, 'Mom, don't worry about me. Everything will be fine.' That was the last time I saw him alive," the volunteer's mother shared, struggling to hold back tears.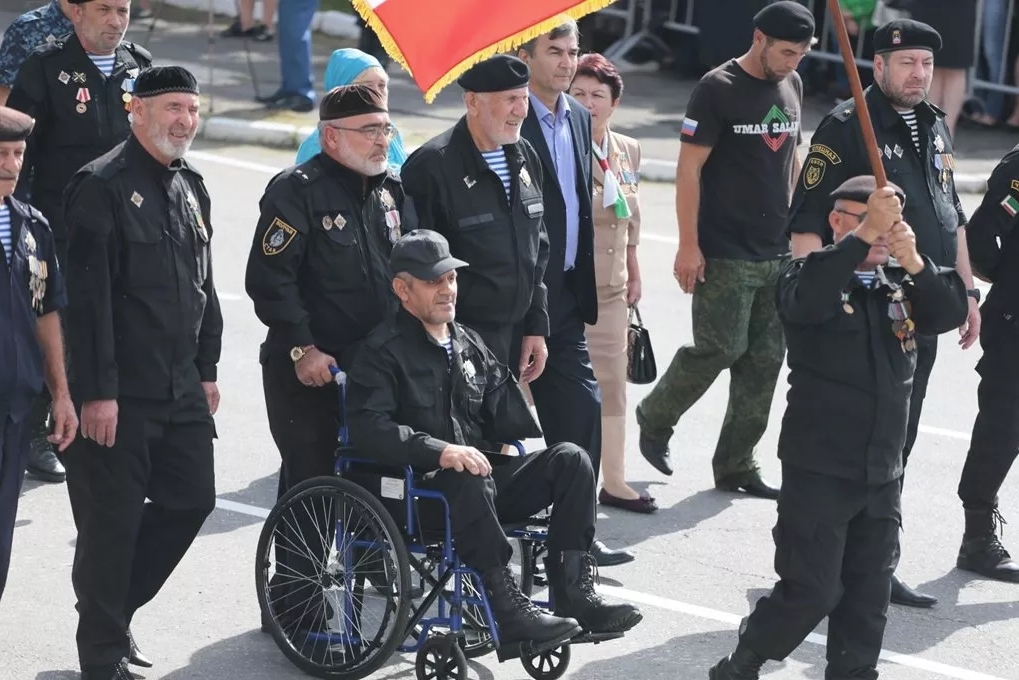 Military parade commemorating the 25th anniversary of Victory and Independence Day in Abkhazia, held at Freedom Square in Sukhum.
Some time later, Dzhamal briefly returned to Karachay-Cherkessia, but never met with his mother, who was not at home. During that visit, he escorted the body of his fallen comrade, Alik Shidakov, who had been killed in the war.
Dzhamal's relatives tried to dissuade him from returning to Abkhazia, but his response left them speechless.
"If you saw with your own eyes what is happening there, you would go there yourselves," Dzhamal succinctly described the situation in Abkhazia.
Dzhamal was a paratrooper. He took part in the operation to liberate Gagra, endured the March offensive, and fought on the Gumista front lines. He was killed on July 4, 1993, during a landing on Mount Akhbyuk.
In 2010, Abkhazia's second president, Sergey Bagapsh, presented Klara Bolatchieva with the Leon Order awarded to her son. Since then, she has visited Pitsunda annually, along with several other parents of fallen volunteers.
"Whenever I cross the border, my soul rejoices. There is probably no other nation that would welcome us with such respect and attention. I remember coming here in poor health, and within two months, I recovered from my asthma. Since then, I try to visit every autumn," Bolatchieva shared, expressing gratitude for the care.
Dzhamal's story is also featured in Lili Khagba's book about the volunteers.
Over two thousand volunteers took part in the Patriotic War of the Abkhazian people in 1992-1993. Among them, 51 were awarded the title of Hero of Abkhazia, 247 were honoured with the Leon Order, and 623 fighters received medals for courage. Over 260 volunteers lost their lives.