Parliament discusses aid to Turkey and Syria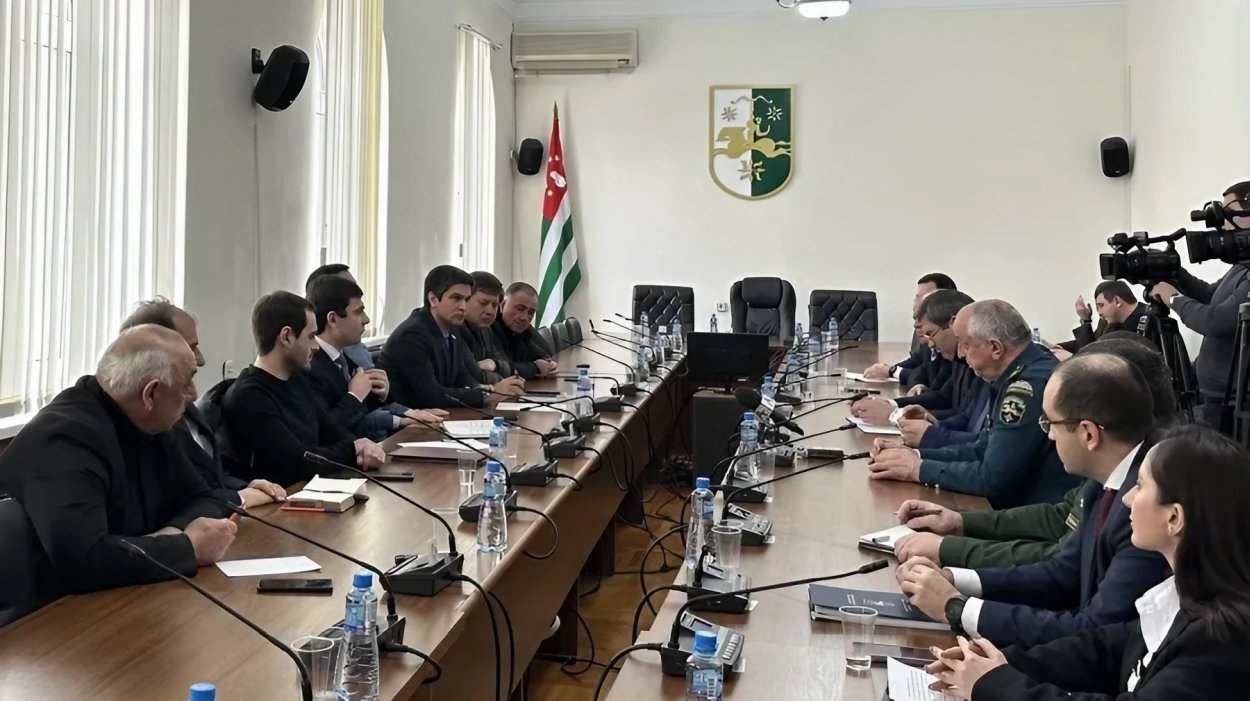 SUKHUM / AQW'A ― The parliamentary committee on international relations discussed providing humanitarian aid for earthquake victims in Turkey and Syria in a meeting led by committee chairman Alkhas Bartsits. 
Before the meeting, the members of the committee paid their respects with a minute of silence.
Death toll from earthquakes goes past 37,000. Turkish authorities say 31,974 people have been killed in the country, while more than 5,800 people are dead in Syria, according to the UN and the Syrian government.
Alkhas Bartsits expressed Abkhazia's plans to provide humanitarian aid to Turkey and Syria as the search for victims continues.
MP Inar Gitsba noted the importance of coordinated actions.
"We are in real-time contact with the representative of Abkhazia in Turkey, Ibrahim Avidzba. Our own possibilities are very limited, but Abkhazia cannot turn a blind eye to the situation in Turkey and Syria," Gitsba said.
He stressed the importance of developing a unified approach to providing assistance, and praised the efforts of public organizations and the people of Abkhazia in providing aid.
 Emergency Situations Minister Lev Kvitsinia reported that over 20 tons of relief supplies had been gathered so far.
+ Abkhazia Establishes Humanitarian Aid Hub for Earthquake victims in Turkey and Syria
+ State Philharmonic to Host Charity Concert for Earthquake Victims in Turkey and Syria
+ London Abkhaz-Adyghe Association Launches Aid Campaign for Earthquake victims in Turkey
"People are ready to help and are actively involved in the process of collecting humanitarian cargo. We have already collected more than 20 tons of cargo and are working around the clock. From the first day, we have not sat idly by, but we do have certain limitations. For us, collecting 5-6 containers of cargo is also expensive, and everything is difficult for us. It's important for us to have a roadmap for cargo delivery. While we have understanding with Turkey, we are facing difficulties with delivering cargo to Syria due to the lack of logistics, so this is currently the main issue," Kvitsinia stated.
We will continue to collect cargo until Sunday, and if necessary, we will extend the period," he added.
Abkhazia's Ambassador to Syria, Bagrat Khutaba, provided an update on the current situation in Syria and the type of assistance needed. He stated that the number of victims has risen to several thousand, and the situation remains challenging. Preliminary data suggests that around 276 buildings were damaged or destroyed, forcing almost 400,000 people to evacuate their homes due to the risk of collapse and possible aftershocks. Government agencies and the Ministry of Education have also reported damage to their facilities, including nearly 600 schools.
Khutaba mentioned that numerous countries, including Lebanon, Algeria, Russia, Tunisia, Iran, UAE, Iraq, Jordan, Libya, Cuba, Belarus, Oman, Venezuela, Pakistan, Armenia, India, and Egypt, are providing humanitarian and financial support in addition to the Ministry of Emergency Situations' rescue teams.
Bagrat Khutaba, the ambassador, mentioned that drinking water, tents, mattresses, blankets, pillows, and power generators are among the needed items for the victims. However, they have sufficient supplies of water and medicines, so there is no need for them. He emphasized that Syria is an ally of Abkhazia, and one of the interesting directions for the country's foreign policy, as it is based on the interests of the state in entering the international political space.
+ Bagrat Khutaba, The Ambassador of Abkhazia Comments on Earthquake in Syria
+ About 150 Circassians have been reported dead following the earthquake in Turkey
He also mentioned that about 100 thousand people of the Caucasus, including Abkhazians, Abaza and Circassians live in Syria, and thankfully none of them were injured. Khutaba expressed his gratitude to all those who are providing assistance to the victims.
The Ministry of Defense's representative, Colonel David Bzhaniya, informed the deputies that their personnel were collecting funds to aid the victims and were willing to provide the Ministry of Emergency Situations with trucks and personnel if needed.
Deputy Alkhas Bartsits mentioned that all the deputies were also raising funds, but some were willing to purchase 5 tons of flour and other necessary food products.
Nizam Khapat added that several companies owned ships and could transport cargo to Trabzon at no cost. Additionally, these companies had supplied 5 cargo containers, which were delivered to the Ministry of Emergency Situations.
The chairman of the parliamentary committee on budget, finance, and credit organizations, Beslan Khalvash, stated that the first step is to determine the required amount of funds. "Unfortunately, the current budget does not have a specific allocation for this purpose. Given the limited nature of our budget, we may have to re-evaluate its parameters, or we could explore alternative funding sources, such as the Repatriation Fund," Khalvash explained.
The meeting of the Committee was attended by several high-ranking officials including Minister of Emergency Situations Lev Kvitsinia, Acting Deputy Minister of Defense and Secretary of State David Bzhaniya, Chairman of the State Committee for Repatriation Vadim Kharazia, Ambassador of Abkhazia to Syria Bagrat Khutaba, Public Chamber member and repatriate Nizam Khapat, Deputy Minister of Foreign Affairs Odyssey Bigvava, Permanent Representative of the President in the Parliament and Minister of Justice Anri Bartsits, and Commissioner for Children's Rights Maktina Dzhindzolia.